I received this product for free from Moms Meet (momsmeet.com), May Media Group LLC, who received it directly from the manufacturer.  As a Moms Meet blogger, I agree to use this product and post my honest opinion on my blog. The opinions posted are my own.
When I first heard about BRÖÖ shampoo and conditioner having craft beer as its main ingredient, I imagined it making my hair smelling like a frat party.  Well, after trying out three types of the shampoo and conditioner, I can say that BRÖÖ does not leave your hair smelling like beer.  Indeed, I was pleasantly surprised that the beer in this line of products really does feel nourishing to my hair!
The first products I tried were the Moisturizing Shampoo and Conditioner.  According to the package, it is formulated for dry, damaged hair and has a "hop flower" scent.  I am not sure what a hop flower smells like (it did not smell like beer), but I honestly did not care for the scent.  While my hair did feel moisturized after using it, the scent seemed too masculine for me, and it lingered after my hair dried.  Oh well, I am sure D will be happy using the rest of this one.
The second products I tried were the Thickening Shampoo and Conditioner.  This one is for fine, flat hair and has a citrus creme scent.  I did not know what the scent was before I tried it, and I could not quite place it.  It reminded me of a lemon meringue pie (yum!), which I guess fits into the citrus creme profile.  The shampoo itself is a little thinner than what I am used to, but it worked up into a good lather.  My hair did feel noticeably softer and thicker, so this was a definite winner.
The third products I tried were the Invigorating Shampoo and Conditioner.  This is supposed to serve as a daily detox for the hair and scalp and has a "malted mint" scent.   Invigorating is an apt name, as the mint felt refreshing and tingly.  Again, my hair felt soft and conditioned afterward.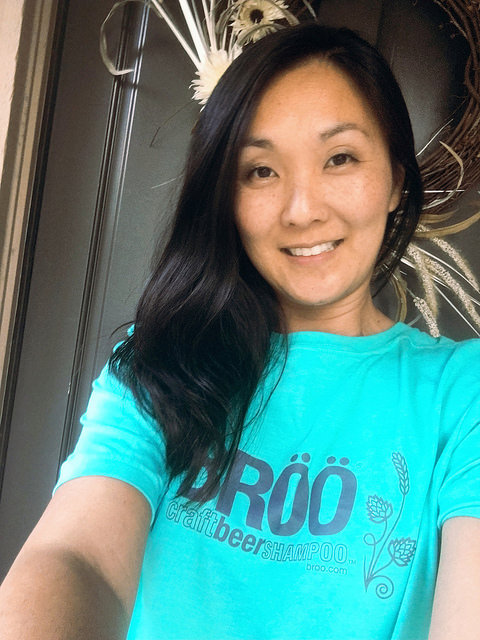 B vitamins, proteins, and minerals are the key ingredients that make this shampoo effective.  I also like BRÖÖ's "6-Pack Promise": no sulfates, no parabens, no phthalates, no silicones, no dyes, and no fake fragrances.  It is labeled as color-safe.  According to the store locator on the BRÖÖ website, their products can be found at Walmart stores.  Click here for a $1 off coupon!